In political fundraising, Dark Money describes funds given to nonprofit organizations, including social welfare groups, unions, and trade associations. They can receive unlimited, and often unaccountable, donations from corporations, individuals, and other organizations. They can spend funds to influence elections, but are not required to disclose their donors.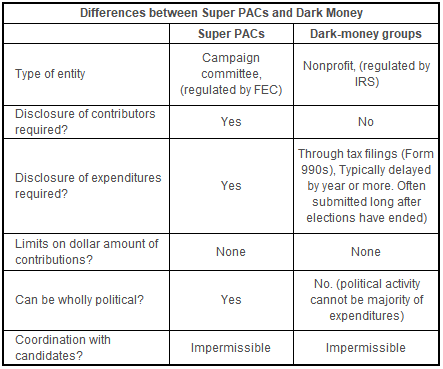 In January 2010, at least 38 states and the federal government required disclosure for all or some independent expenditures or electioneering communications for all sponsors. Yet despite disclosure rules, it is possible to spend money without voters knowing the identities of donors before the election. Setting a new record and driving much of the higher costof the elections, contributions from outside groups, that weren't formally connected to either political party, surpassed $1.4 billion in the 2016 election cycle.
According to Kathy Kiely, managing editor of the Sunlight Foundation, "untraceable dark money is a preferred tactic of conservatives, while Democrats tend to use traceable super PACs." The Federal Elections Commission, which regulates federal elections, has been unable to control dark money.
Dark Money Impact on Our Local Elections
Our local 12th District and Delaware candidates have felt the swell of the Dark Money influx to Delaware County and the 12th Congressional District overall. The Republican-supported PACs, and Dark Money supported campaigns, use an old, but effective messaging technique. They create a campaign, test its effectiveness, and then use it repeatedly across the country often just changing the name and location, depending on the position they are running for and the state they are in. Let's take a look at those campaigns, and how Dark Money is impacting them:
Cory Hoffman for 67th Statehouse Representative
Cory is running against Kris Jordan who is going through a difficult divorce, with domestic violence indicators. In its wake, Jordan's campaign has attempted to find something that it could tag Cory with that would sway voters to vote for Kris. Those expensive efforts show how serious they are taking Cory, and how he is making inroads into this election win for Kris Jordan.
And the messaging is not about Cory, but rather a general attack on Democrats: "The last time Democrats like Cory Hoffman were in control in Ohio, they raised the taxes on the middle class, raided the state's rainy day fund and…Lost over 350,000 jobs. Don't let our economy down. Vote against Cory Hoffman." This is the rehashed canard used against Ted Strickland by the Portman campaign and PACs supporting him. What they forget to mention is that the fund was quickly replenished. Afterall, rainy day funds are for when it's raining, and we were being drenched by a Republican-created downpour.
These strategies and tactics are to scare voters, who then spread their message to scare others. And, sadly, it works. Which is why we need to shine a light on these lies, and fight back with facts, and spreading the truth.
Louise Valentine for State Senator for District 19
Louise's opponent, Andy Brenner, is the representative who is was taking campaign donations from the Electronic Classroom of Tomorrow (ECOT) and who has redirected massive amounts of money from local schools to support privatization of education. ECOT is currently being investigated by the FBI..
Similar to Kris Jordan, Andy Brenner is nervous about how much attention Louise Valentine is getting from his base and her Democratic center. She has come out of the gate strong, and has gotten stronger in fundraising and support. And Brenner knows it, which is why his TV ads and direct mail campaigns are now being funded, in part, by Dark Money. Andy thinks he can downplay the negative ads by saying they are not his, but like most recipients of Dark Money, they're not doing anything to stop it.
A PAC-funded TV campaign is using typical conservative scare tactics, calling Louise a Radical, Socialist, and Extremist ends with a meaningless disclaimer: "This ad is not from my campaign, but it clearly illustrates with whom my opponent is aligning herself. Her style of socialism is not what the 19th State Senate district needs or wants!"
Danny O'Connor for Congressional District 12
Danny O'Connor has been exceptional in raising money for his campaign, both in preparation for the special election on August 8th and for the midterm election on November 6th. But in a clear sign of just how nervous the Republican Party is, PACs supporting his opponent just received $1 million.
In the last week, both Inside Elections with Nathan Gonzales and the Cook Political Report moved the race from 'Lean Republican' to 'Tossup.' Cook's David Wasserman writes:
"Ohio Democrat Danny O'Connor hasn't gone quietly into the night after losing an August 7 special election to Republican Troy Balderson by a razor-thin 1,680 votes. Instead, the Franklin County Recorder out-raised the new incumbent $1.3 million to $357,000 in September. Balderson hasn't had much time to gain an incumbency advantage, and private polls show an extremely tight race for a full term.
O'Connor raised a record-breaking $6 million in the third quarter of 2018, leaving him with just over $1 million cash on hand. In the same period, Balderson raised $1 million and has $350,000 on hand, with $270,000 of his raised from Corporate PACs that can give a maximum of $5,000 per election cycle. Danny had more than 98,000 people contribute to his campaign, making 291,658 contributions with an average donation of $20.50!
Twenty days out from the August 7 special election, outside special interest groups including the NRCC and Congressional Leadership fund had spent or reserved $2,287,743 on TV ads for Balderson. Twenty days out from the general election, one outside group, Defend Main Street, has put an initial $145,000 on the air for Balderson so far, a spot PolitiFact rated False.
Unable to generate the support he needs on his own, Balderson once again turned to outside dark money groups to prop up his struggling campaign. The Trump-linked group, America First Action, "feels that the race has become increasingly competitive and Balderson is being outspent significantly," according to Politico. They just placed $1 million on television ads, digital advertising, and direct mail.
Danny O'Connor and our other local candidates need as much help as they can get to keep up this energy, and bring about some big changes. Please help Danny, and our other amazing candidates, to crest that hill and MAKE DELAWARE COUNTY BLUE!

-DCDP newsletter volunteers